Conflict Free Technology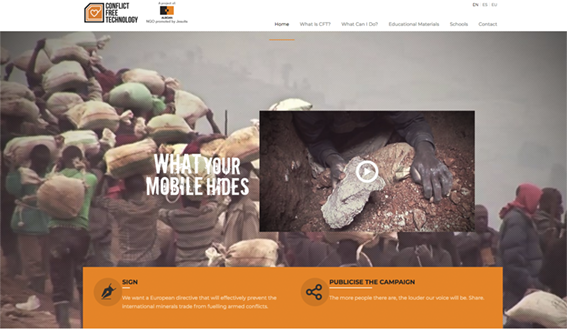 "Conflict Free Technology" is a campaign by the NGO ALBOAn that seeks to denounce the violation of Human Rights occuring in the Democratic Republic of the Congo relating to the mining and ilegal trade of minerals. These minerals, vital for the manufacture of our mobile phones, computers and other technologies, are mined in conditions of semi-slavary and their ilegal trade helps finance armed groups, perpetuating the war in the región.
The pictures in this exhibition, granted by the photojournalist Iván Benitez, were taken at the Rubaya mine. Rubaya is 70 km from the city od Goma. The mine is located at the top of a mountain, a red tongue only accesible on foot or by motorbike. As you climb the mountainside, you see a valley. At the end is Rubaya and the camp of persons displaced by the war. A mass of plastic sheets protects the mud and bamboo huts inhabited by entire families. Most of the 5000 miners come from there.
The exhibition aims to jolt our consciences and show us the social and enviromental consequences of our consumption of technology. The conflict has already left five million dead and over a million displaced persons in 2013 alone and over 100000 women raped per year.